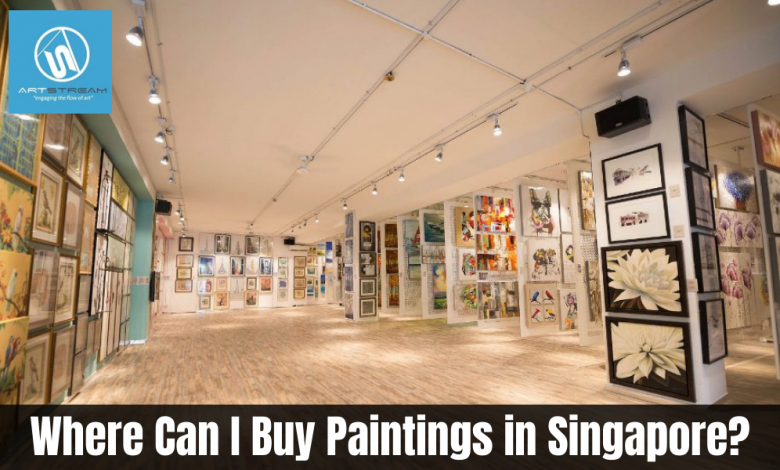 Has this question ever popped up in your mind; where to buy a painting in Singapore?
You might be aware of Singapore's ancient art culture and art galleries. It is globally popular and known by kids in Singapore. Since the 19th century, the visual arts in Singapore have witnessed remarkable advancement and growth.
Moreover, landscapes, human figures, abstractions, portraits, still life, urban scenes, and village scenes are the very popular themes of Singaporean art.
However, when the time changed, online art galleries came into existence. Trust us, there are many people seeking the topmost online art galleries. For your ease, we have made a guide to tell you about places where you can buy a painting in Singapore.
Places To Buy Best Painting In Singapore
1. Cham Hampe Galleries
It is one of the best and local art galleries in Singapore. If you support local retailers and designers, then it's the best place.
Undoubtedly, Chan Hampe Galleries is one of the largest art galleries, only dedicated to local art and artists. It promotes contemporary artists of Singapore via art programmes and exhibitions for emerging and established artists. Further, any of their local artists combine:
Chankerk
Belinda Fox
Jahan Loh
Gian Wei
Vincent Leow
Mohammed Zulkarnean Othman (ZERO)
One of the most famous exhibitions is New Energetic; Inverting the Process. It highlights one of Singapore's topmost promising modern artists, Ruben Pang, curated by Loredana Pazzini-Paracciani.
2. Icon Gallery
Icon Gallery is a full-fledged art gallery that presents music, icon, and sport-inspired art, along with music tour posters and autographed film, as well as memorabilia and books.
Furthermore, they operate, particularly with a few British artists. It consists of Tim Wakefield who captures unique sound waves of iconic songs. And some of the songs have been autographed by the original artists like The Killers, Abba, Coldplay, and Slash. Also, the oil painter Paul Oz, British artist Colin Brown, and pop artist Horace Panter Soul Gallery New Zealand Art & Jewellery.
3. Louise Hill Design
It is an online gallery. Also, specialised in high-end packaging design for beyond 15 years, going for clients like Fortnum & Mason's and Marks & Spencer, Crabtree & Evelyn, designer Louise Hill turned her centre over the shows around Asia. In this gallery, you can find vibrant art prints that help to beautify your home or living spaces.
Also, Louise has a mixture of own illustration, patterns, photography, photos, and vintage imagery of collected textiles. The final outcome is a refreshing mix of intricate multi-layered digital published artwork profoundly focused on old Asian elements.
4. Ode to Art
If you are an art enthusiast then don't miss out on Ode to Art gallery of Singapore. Furthermore, it is especially for those having an interest in dynamic, thought-provoking artworks in explosions of emotion and colour.
It is a prominent Singaporean contemporary art gallery. Ode to Art incl both emerging and established names of contemporary art.
Also, in this gallery, you can find artists like Mauro Perucchetti, Fernando Botero, Chen Wenling, Qin Feng, Lim TzePeng, and Lee Jung Woong. This gallery offers a wide variation of art mediums, including photography, installation pieces, paintings, and sculptures.
5. Opera Gallery
Opera Gallery is one of the best-known names over the globe. This Gallery has an outlay right smack in the centre of Orchard Road on the 3rd floor of Ion Orchard.
It is quite popular for its broad portfolio of crafts from Claude Monet to Salvador Dali local space of Opera Gallery will certainly not disappoint you.
The most latest exhibition, Lita Cabellut of Dried Tear is a compelling collection of portraits. It discusses the relationship between Western and Eastern cultures in suggestive portraits of women upon a desolate and dark, speckled backdrop.
Moreover, Opera Gallery is best if you're searching for an art master.
6. Talking Textiles
If you love the rich heritage of Singapore, then Talking Textiles is the only place. Talking Textiles is an interior design firm that tells Singapore's stories via its artwork and textiles.
When you use the silk-screen printing technique, make sure that every piece is exclusive and unique. Designer and founder Deborah McKellar's textile artworks are defined by their layers of stitch, bold colours, silk-screened images, printed patterns, and remnants of fabric. Furthermore, select a cushion cover or your favoured artwork for beautifying your home and the living room.
7. Gillman Barracks
It is Singapore's exciting art cluster and is situated at the former military camp. This camp is named after a renowned British General at the time of Singapore's British colonial period. Also, it features international artists, also a few restaurants and cafes.
Final Words
In conclusion, we would love to add that while visiting any gallery, do check all the products. Don't buy any painting without researching.
Furthermore, we hope this guide will help you to buy paintings in Singapore. Have you visited any art galleries in Singapore? If so, let us know!