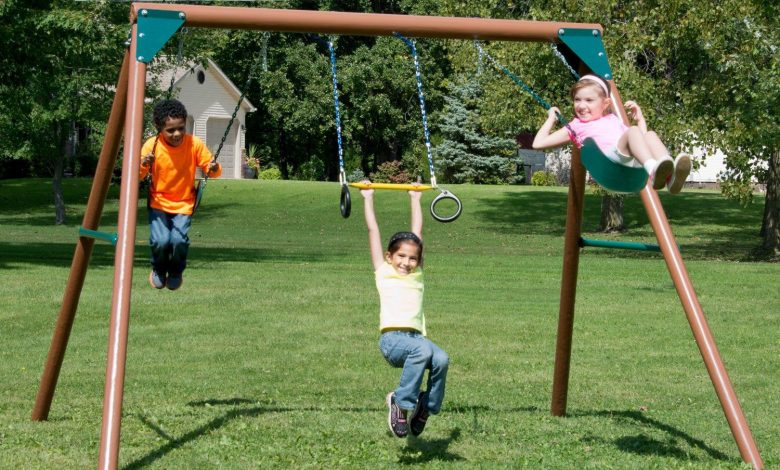 Playsets can help in improving the childhood experience of your kids. Therefore, all parents should consider the installation of playsets in their yard. If you do not have a good budget, then you should consider the installation of a simple playset like a swing set in your yard. Nowadays, all parents are working and they do not have much time to take their kids to playgrounds often.
By installing the swing sets in your yard, you can give fun-filled life to your kids and you can also manage your various chores efficiently. You should make a plan and invest in the right swing set. It may sound quite simple to purchase a swing set for the yard. It means choosing the right one out of many is a quite complicated process. You should take your time researching so that you can make the right decision. Here, in this article, we are going to discuss various important factors that you need to consider while purchasing the swing set:
Invest For Long Term
You should not invest in something which is not for the long term. Mostly, parents make one big mistake that they purchase the playsets which are suitable for right now only. Your kids will grow faster than you think. If you will purchase the swing sets according to the present needs, then they will not be useful after some time. You should consider investing in large-size swing sets.
You may have to supervise your kids in the early stage, but when your kids grow bigger, they can easily manage themselves. These kinds of swing sets will pay off in the long run. You should consider investing in the modular set in which you can add more swing set accessories. You can make the modular swing set more useful by adding more accessories.  
Space
Another important factor that you need to consider while installing the swing set in space. The swing sets need at least six feet of clearance around the place of installation. Complete clearance is required near the swing set for safety reasons. It is an important factor to consider while you are thinking about the size of the swing set. In addition to this, you should also pay attention to the orientation.
Construction
The different swing sets are constructed differently by using different materials. The wooden swing set can easily blend with your landscape properly. But you have to regularly paint them to keep them in good condition. If you fail to paint your wooden swing, then the rotting process will start and affect your wood quality. On the other hand, if you choose the metal swing set, then you have to do less maintenance work. Various other kinds of material will need less maintenance. It is recommended that you should do your research work before investing in the swing sets.
Installation
When it comes to purchasing the swing set, then you should pay attention to the cost of delivery and installation as well. Sometimes, installation and delivery will take so much time and cost. Some swing sets can be installed without taking help of professionals.
On the other hand, some will need trained installation professionals. Some playsets are very difficult and they need intense labor that will increase the cost of the installation of the swing set in the yard. You should consider all these factors in mind while purchasing the swing set. You should invest in the good quality swing set hanger to ensure safety. 
Timing
You should find out the right time to purchase the swing set. Usually, people install swing sets in their yard during early spring. But the prices of swing sets are high during the early summer. If you want to get the swing set at a budget-friendly price, then you should invest at the end of the season.
Age And Number Of Kids
You should also consider the age of your kids and the number of kids there are in your family. It is very much important to choose the swing set based on the age and number of children. If you have more kids in your house, then your swing sets should be able to accommodate all kids in your house. It will let your kids play simultaneously and it will also help in avoiding fights between kids.
The modular swing set will help you to add more swing set accessories and let your kids learn various activities. Along with the number of kids, you should also consider the age of your kids. You should not consider the installation of a swing set if your kids are below the age of 3 years. You should keep in mind that the safety of your kids is the topmost priority.