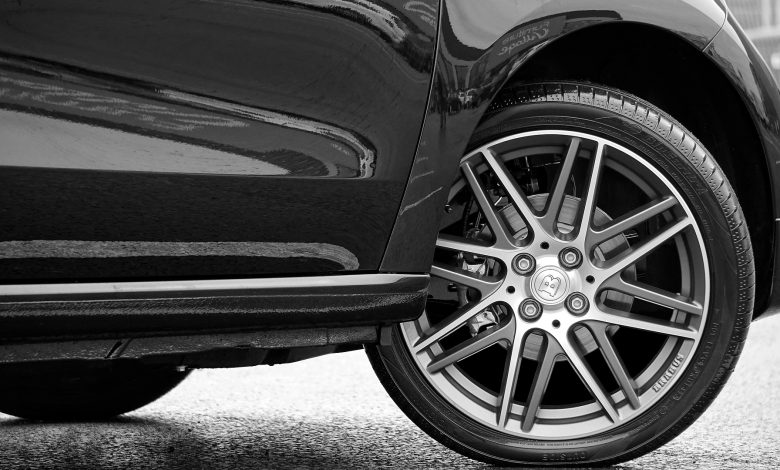 When given a chance to choose between wide options of car models, we fail to consider 'wheels' as a significant factor in determining the model.  The entire vehicle and the travel experience will be ruined if an unsuitable wheel is chosen. It might not serve the purpose of your car or might even ruin the appearance of the car. Thus making a legitimate and conscious choice of wheels is absolutely important. Each kind of wheel exhibits its own pros and cons. For example, you can customize the vehicle's appearance in case of alloy wheels, specially designed wheels to suit winter conditions or wheels that aim to reduce carbon footprint are all available in the market inculcating customer's requirement.
What is an alloy wheel?
As the name suggests, an alloy wheel is a combination of multiple metals, especially aluminium and magnesium. Thus, they are also given the name 'mag wheels'. Alloy wheels are generally produced from metals that are non-ferrous. It is accepted with open hands because of its pleasing aesthetics. Such wheels on being manufactured give scope for custom design while powder coating and painting. They enable you to choose a style that compliments your vehicle's look. Mag wheels are quite light in weight. This reduces the vehicle's fuel consumption, improvises the braking, steering and accelerating ability. On a whole, the entire vehicle's performance is enhanced.
Pros of alloy wheels:
Personal customization:
The appearance that the steel wheels give can never come close to that of the alloy wheels. The two main reasons why people opt for alloy wheels is their cosmetic upgrade and their improvised visual impact. The blacked-out rims in steel wheels act as a sufficient reason to go for alloy wheels.
Provides better conduction:
Alloy wheels dissipate heat way better than steel ones. Thus they result in better braking efficacy and also decreases the risks encountered due to brake failure.
Better performance:
In alloy wheels, only less inertia is transmitted to the springs as the unsprung weight is decreased. This makes the suspension flow through the terrain even more comfortable with a better gripping experience. Evident improvement is seen in experiences involving handing, cornering and steering.
Fuel economy:
The vehicle's fuel consumption stands efficient in the case of cars with alloy wheels. This is because the wheels are light in weight when compared to the steel wheels.
Braking efficacy:
The braking efficacy of the vehicle is increased because alloy wheels provide better traction and reduce wheel hops.
Chances of corrosion and rusting are slim:
Alloy wheels are made up of aluminium and magnesium alloy. Thus, they are very well safeguarded from being corroded and rusted.
Longevity of the tyre's life:
The heat in the alloy wheels is dissipated in an efficient way. This results in wearing out of tyres at a slower pace as the wheel continues to remain cooler.
Gets along well with tubeless tyres:
Alloy wheels are thoroughly airtight and thus they get along with tubeless tyres so well. They are the apt foil for tyres that are tubeless.
Cons of alloy wheels:
Less durability when compared to steel wheels:
Steel wheels are comparatively stronger than the alloy wheels as it endures much more impact before it even bends or cracks, unlike the alloy tyres which struggles while encountering a harsh undulation. This is where we have to make a wise choice. Alloy wheels do not go well with unfavoring and rugged roads.
Involved cost is higher:
The process of manufacturing an alloy wheel is complex when compared to steel wheels. Thus the cost of the wheels is proportionally higher. It easily is 70-80 per cent higher than the steel wheels.
High chances of theft:
Alloy wheel which appears to be more attractive than the traditional steel wheels is very prone to be lifted away. Thus, double-check the safety of your alloy wheels using locking nuts.
Alloy Wheel Refurbishment Leamington Spa best suit smooth terrains while they have a deterring effect on rugged surfaces. Taking an informed and well-analyzed decision would help you outweigh the disadvantages of alloy wheels.
Also Read for MOT Leamington Spa