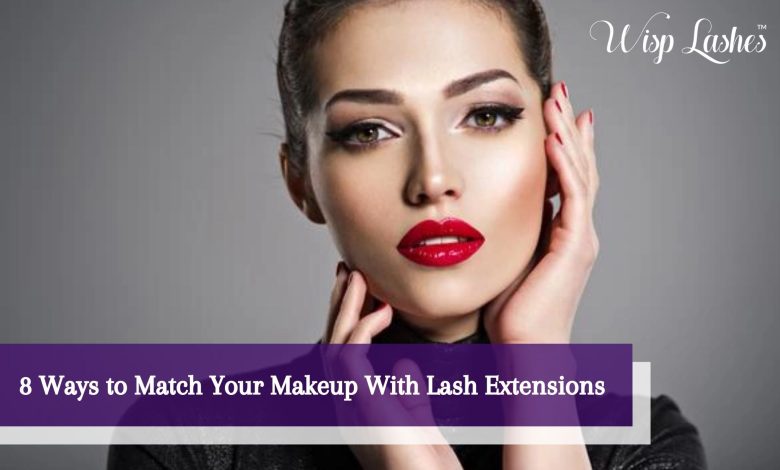 Lash extensions are the latest trend in achieving gorgeous lashes. They're great for special occasions or if you're too lazy to do makeup daily (like me). Eyelash extensions are perfect to match your makeup as these styles give you that dramatic or subtle definition that brings out the eyes and blends in perfectly. They add length, volume, and curl, making them easier to style.
However, there are many different options of lash styles that can match any look you wish to achieve! Here are 8 examples of matching your favorite looks with lash styles.  
8 Ways to choose the right makeup look with right lash extension style 
1. Natural makeup look & natural lash extensions
The natural makeup look is suitable for daily use, and it's easy to create this unique look by just using soft colors. This balanced combination of colors will give your eyes a natural definition which is very captivating for people attracted to the simple yet elegant style.
This classic eyelash extension type is also perfect for this unique look since it will add volume and length to your eyes. However, if you want to be more glamorous with such a natural look, then go for doll lashes with a dramatic design, enhancing your makeup result.
2. Matte makeup look & doll eyelash extensions
The matte makeup look is a good choice for daily use, and you can still go to work with it. This unique type of look uses matte colors with a shine blocker which makes the result more natural, and this balanced color will definitely let your eyes stand out.
If you have a doll eyelash extension, it's possible to get this type of result since they have a thick and dense volume that looks very natural. In addition, you can get doll eye makeup with soft colors, which are easier to remove from your eyes, so this type of lash extension is an excellent choice for daily use.
3. Smoky makeup look & cat eyelash extension
You can still choose cat eyelash extensions if you have a smoky makeup look since they have good toughness and durable quality. This is not just the only benefit of this lash type, but it also gives your eyes volume, curls, thickness, and length. So you will definitely get the desired wet look lashes to a result that matches your glamorous smoky makeup look.
4. Precious eye makeup look & butterfly eyelash extensions
Precious makeup looks are created by using dark colors to give your eyes more depth. By using dark colors, the space between your eyes will look smaller and thicker, which can enhance your eye shape.
However, you cannot get this type of look by just wearing butterfly lashes since they are too thin to create such an exciting makeup result. So it's better to use doll eyelash extensions with a thicker volume, and they will definitely give you the desired result.
5. Metallic makeup & flirty eyelash extensions 
Metallic makeup is perfect for special occasions since it has a glamorous look. If you want to achieve this unique makeup result, choose metallic lashes suitable for any occasion. You can apply heavier makeup on your face with these lashes because they have a smoky and dramatic design that is very captivating.
If you plan to go for a glamourous event, you should consider wearing these volume lashes because they will give you the desired dramatic look. Metallic lashes come in different designs so that you can choose one of them according to your own unique taste. 
6. Shimmer makeup & colored lash extensions
Shimmer makeup is another type of special occasion look that has a glamorous touch to it. But this eyelash style is not suitable for daily use because they are pronounced with their distinctive color design. This will surely make you shine for any of your special occasion. 
This professional eyelash extension comes in various colors to give your natural lashes more definition. You can choose any of these vibrant colors according to your unique taste or your special occasion.
If you plan to go for any special night event, then this type of lashes will make your makeup look outstanding. You can match them with either a dark metallic eyeshadow design or darker colors like black and grey. Matching these lashes with lighter colors like white, pink, and gold is also possible, but you should go with a minimal makeup result.
7. Dramatic makeup & staggered eyelash extension style
This is another type of special occasion eyelash extension variety that will give your eyes a dramatic look. Since this style can be very distracting, it's better to wear them on special occasions or parties where you want people to have only one focus point: your eyes.
If you want to achieve some glamorous and dramatic looks for your special occasions, then you should try these lashes. They have a perfect design with enough length and volume to make your makeup look more attractive.
Since these lashes have a large design, they will give you an eye-opening result, and you can also shape them according to your unique taste. For example, you can either trim their length or curl them up more to make your eyes look bigger.
8. Bold makeup & glam eyelash extensions style
Many people often try to employ bold makeup and glamorous lashes. We can see many celebrities who want to make their eyes look more glamorous by using false eyelashes or lash extensions. This style is excellent for parties and special occasions but not advisable if you want a natural look every day. This will make you shine out of everyone. 
Conclusion
You will look more glamorous and attractive with the different lash styles. There are many styles to enhance your eyes, but make sure that it matches your makeup and does not overwhelm your face. For example, for you to save time in the morning, choose an eyelash extension style that matches perfectly with your makeup routine or daily activities. You can also do the short-term experiment before deciding what style would fit you best.