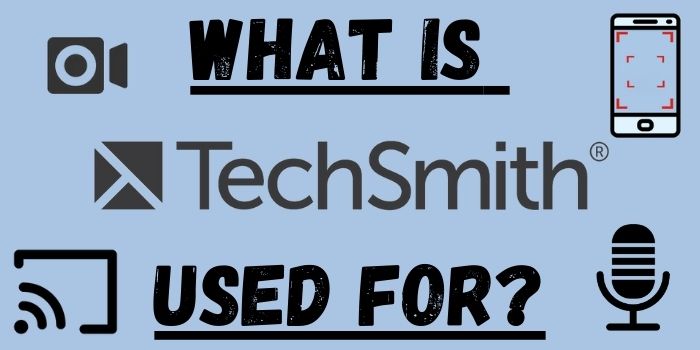 TechSmith is an America-based software brand that has been operating since 1987. It started its journey with a screen capture software, called Snagit. But with time it added many software to its portfolio, due to this many people get confused about the usage of TechSmith's software. So, here we will try to find what is TechSmith used for by discussing its various products and their usage. We will also discuss the benefits of using the TechSmith to find whether it is reliable or not.
Functions That You May Perform With TechSmith
There are lots of tasks that one may perform by using the various software of TechSmith. Using the TechSmith promo code also makes all these programs much affordable. Let's discuss these tasks one by one:
Screen Capturing & Screen Recording
The very prime thing for which TechSmith is known is screen capturing and screen recording. It offers two software named Snagit and Camtasia. You can use both of them to record your on-screen activities. Apart from this, you can also take screenshots of your entire screen or any specific part of it with the help of Snagit.
Photo Editing And Video Editing
The programs of TechSmith can also be used for editing photos and videos. With the help of Snagit, you can edit photos and screenshots in real-time. Besides, you can use Camtasia for editing videos and your screen recordings.
Audio Recording And Editing
Apart from recording photos and videos, This software can also be used for recording audio clips. Snagit, Camtasia, and Audiate are the three main software that you can use for recording voice. However, you can edit them only with TechSmith Audiate. All these programs also come with a library of royalty-free music. You can use them in your projects.
Creation Of Tutorial Or Educational Videos
Knowmia is a quite popular software that is mainly used for creating educational videos. It is preferred by a large number of teachers as it lets you create videos and share them with your students. For making your videos more interactive, you can add quizzes and puzzles in your videos. You can share as many videos as you want without any restriction. You can also track the performance of all your students from a single place with the help of this software of TechSmith.
Reviewing Videos And Providing Feedbacks
You can also find a collaborative tool named Video Review with TechSmith. With it, you can share your work directly with your teammates and can get detailed feedback. You can share as many videos as you want without worrying about the bandwidth.
Screencasting Or Hosting Videos
Besides all the above-metioned functions, you can also use that software for screencasting your videos. You can also share the videos directly from various apps with your target audience.
These are the major functions that you may perform with the help of TechSmith.
Products Offer By TechSmith
There are various types of products that you may find with a TechSmith. These are:
Snagit

: It is a screen capture and photo editing software of TechSmith. Its one-time cost is $49.

Camtasia

: It is a screen recording and video editing software and costs around $249 for a lifetime.

Audiate

: This software of TechSmith can be used for recording audio and editing them. The monthly pricing of this software is $29.99.

Knowmia

: It software is mainly used for creating educative videos and its monthly price is $19.99.

Video Review

: This is a collaborative tool of this software and can be used for giving feedback. Its pricing starts from $179.99.

Screencast

: This software can be used to host videos. Its basic pricing starts from $9.99.
Why Choose TechSmith?
So far, we have discussed what is TechSmith used for. Now, we will tell you some of the major benefits of choosing the TechSmith:
It can serve various types of purposes.

Pricing is quite affordable than its rival. Using coupons codes can also provide amazing Snagit or

Camtasia discount

.

Provides a free trial version. You can use this version to testing it before making the purchase.

Provides step-to-step tutorials for using its various programs.

TechSmith offers tech support for its various programs. This can help you in solving most of your queries.
Here we discussed the usage of TechSmith. Now, you might want to know whether it is safe to use it or not. Well. Many Fortune 500 companies use it and recommend it to others. This shows how reliable it is.