Lifestyle
Step By Step Guide to make Perfect Jewellery for Business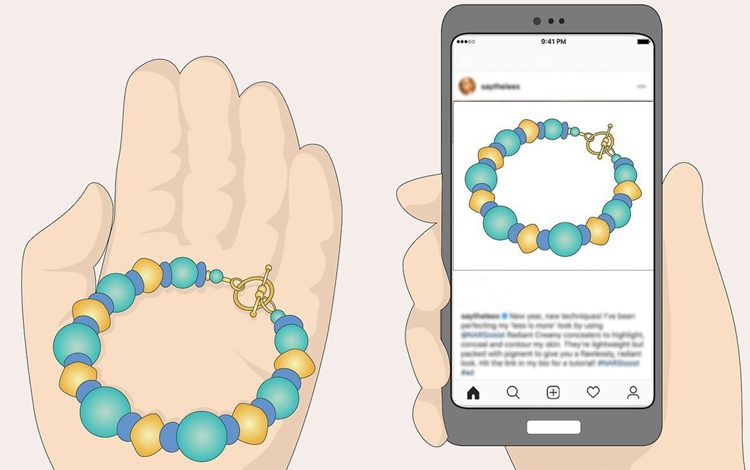 A Simple Step by Step Guide to Make Perfect Jewellery for Business
Starting your jewelry business can be very intimidating, but also there will be some sought of rewarding experiences you will have after you spread your jewelry business. Whether you are interested in making up your jewelry pieces or pre-made products or producing designs from various manufacturers, a jewelry business can be a great way to bring some ultra-cash or total income. Although the jewelry market may appear to be crowded, you can set yourself into a successful business once you create solid business plans.
You can identify and target some specific audience and cultivate some unique designs and brands for your product. In the article, we will be showing some steps on how you can set up and make beautiful Jewelry for your customers. Although for setting up your business, you need some tips and tricks. You can start making your products once you set up everything for your business. Some jewelry makers get success by creating their styles and variants. Hence, below are some simple steps that will help you set up your own jewelry business easily?
Setting up a Plan and Legal Foundation
It is a comprehensive document that outlines who and what your business is and where it plans to go. In addition, an actionable, time-based plan for achieving those goals should be included. You can start by searching online for examples of small business plans, especially for jewelry businesses. The first thing potential customers hear for your own business is the name, so make it unique and memorable. Consider choosing a name related to standard industry terms to help your customers understand what you are selling. When registering your business, be sure to clarify what records you will be required to keep going forward. When you file your taxes, you don't want to be stuck with incorrect information.
Creating Your Jewellery Products
You can create a unique and personalized item by making jewelry by hand. Depending on your interests and talents, you can create your pieces, such as beading, metalwork, fabric or string arts, or gemstone setting. In addition to being a great hobby, jewelry making can also be a profitable business venture. Consider taking free online classes to learn some basic techniques if you are new to jewelry making. To create a design, you can either use a pencil and sketch pad or invest in software like Photoshop, Illustrator, GIMP, Pixlr, Inkscape, or DrawPlus. You might be interested in jewelry-specific design software such as JewelCAD, Matrix, or Rhinojewel if you work with fine jewelry.

Targeting and Identifying Jewellery Customers
Look for similar jewelry businesses to your own as a starting point. Find out who their audience is, how they sell their products, and engage with their customers by attending craft fairs, exploring online selling websites like Etsy, or scheduling friendly chats. Depending on the preferences of your customers, choose where to sell your jewelry. Based on your customer, make different plans and strategic decisions about where to sell your pieces. For example, if you learn that your desired customers don't use online platforms, you'll probably have more luck selling at crafts fairs. The time it took you to make the piece, the cost of the taxes, and the packaging. To make a profit from your jewelry arts, your retail price must be more significant.
Related : https://www.todayposting.com/4-care-tips-for-sterling-silver-jewellery-to-ensure-longevity/
Find a User Effective Jewellery Brand
Knowing what makes your Jewelry stand out is the very first step in identifying your brand. If you already have an inventory of Jewelry, examine it to see if any patterns emerge, such as a particular type of trend. Certain principles may also guide your business and help it grow whether you choose a minimalist geometric look or a commitment to using recycled products. A unique type of brand can help you bring something new into the business and repeat customers. You can try the below things.
Try surfing the internet and saving images that inspire you to look upon new trends such as Pinterest, Instagram and Etsy can be the ideal choice for beginners.

If you do not have good knowledge about jewelry pieces and strong willpower, you can figure it out by visiting stores. Go and purchase the Jewelry. Talk to various customers and identify what they need.

Creating an effective logo for business can help you make a significant impact and impression on the customers. If you have good resources and a budget, hiring a logo designer or searching for different logos from the web is recommended.

Also, make a good website for your business. Create a clean website that shows all your pictures and images of your Jewelry. You can also choose to sell your product directly through the website.
Develop a Jewellery presence on Social Media
Creating your own social media account will help you advertise your jewelry business and introduce your work to people. Use accounts to share products and photos. Also, you can share your information about your business and updates on a new type of Jewellery. Instagram and Facebook are splendid platforms for visually striking your products. Start making your business profile and feature one of the best jewelry businesses. You can start managing your business profile on your own at first. You can hire a team for social media work.
Conclusion
Now you have your products, branding, and photography nailed down. You can pull up together in some matter of time. You can set up your business online. If you don't have any workshops, then you can start your business online. If you follow all the essential steps, then you can become a success in your business. Always try to spend a little less at first. If you want the best jewelry manufacturers for your business?
hire Jewellery Manufacturers New Zealand. They have specialized in giving premium services and products to their customers for many years. For creating a successful jewelry business, you need to try out some different and unique ideas that will attract various customers to your business.